What Is Admation and how it benefits marketing teams?
By Jodie Byass
Admation is a marketing project management tool and approval workflow software that helps marketing and digital teams, ad agencies, brands and compliance teams to manage the creative project life-cycle. Admation is an end-to-end solution that incorporates project briefing, document management, task and resource allocation, online proofing, review and feedback process, project approvals, team collaboration and management of brand assets.

Designed specifically for teams managing creative projects, it integrates all the features required to deliver their projects seamlessly into one tool.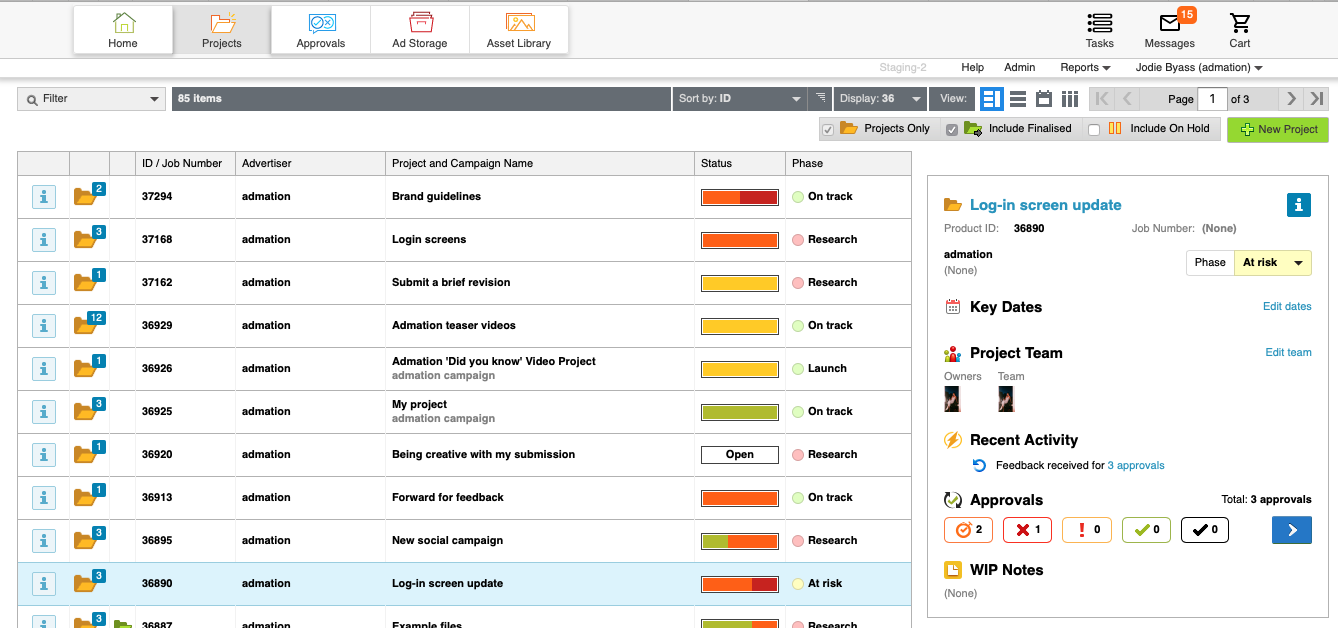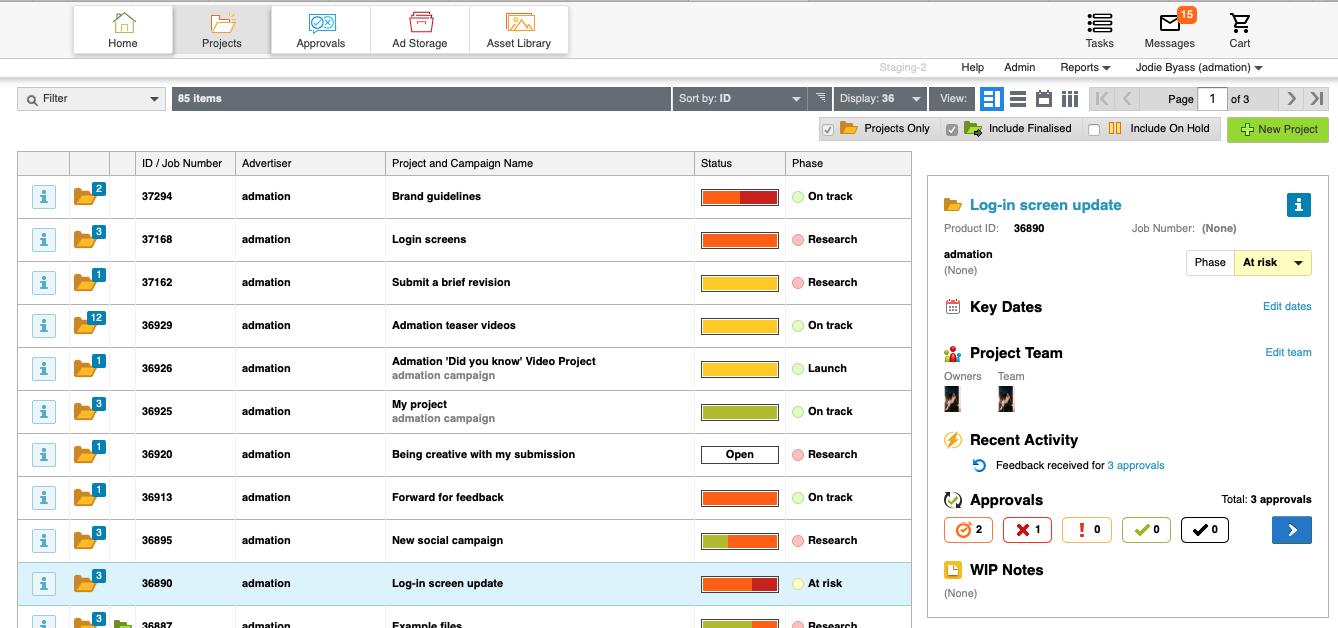 What Challenges Does Admation Solve?
Creative projects involve several steps and components that are all cogs in the marketing machine and influence the ultimate outcome of the project. And with this come many challenges which can make managing marketing projects complicated. Because of this, many marketing teams and ad agencies use Admation to solve challenges they face using traditional tools.
Some of these challenges include:  
No central platform to manage marketing projects. Many marketing teams are still managing their projects with

spreadsheets and emails

and without an organized, central framework. This leads to marketers wasting time on administrating the project instead of being creative.


Inconsistent project briefs. A project brief lays the foundation for the rest of the project. Having an inconsistent project brief that doesn't capture every detail of the project, wastes time and make the process inefficient.

No structured resource management. All too often marketing teams manage their resources on an ad-hoc basis. This means they allocate tasks to resources as they arise instead of being planned and managed with a resource management tool, which leads to inefficient resources management, missed deadlines, and mismanaged budgets.


A lack of transparency over marketing resources. Not knowing who's available for a project straight away, not only causes headaches for management but also for the marketing team who feel they have no control over their workload.
Inefficient approval workflow processes. One of the most common issues with not having a customized and dedicated approval workflow process is that artwork reaches the wrong stakeholders at the wrong time. So, although it often seems like a good idea to send artwork for review to all stakeholders at once, it's actually counter-productive. This is where a streamlined marketing review and approval system comes in handy.
Unproductive project meetings. Project meetings can really hog resources because it takes time to plan for them, time to hold them, and time to collate everything that was decided on in them. This all adds up to increasing the already burdened load on marketing teams.
A lack of collaboration. Still being over-reliant on traditional tools means that marketing teams have no idea what their capacity is when briefing new tasks and projects.


Inconsistent reviewing processes and the wrong tools. When there's no defined process for stakeholders to review and approve campaigns, errors will  occur. These, ultimately, lead to costly and high revision counts, as well as project delays. 


Difficulty collating feedback. When feedback is provided via email, a meeting, a phone conversations, or scrawled on a piece of papers, it's difficult to collate and makes it tough for marketers to pull feedback together. 
IIf some of these challenges sound familiar, it may be time to implement a marketing approval workflow and project management tool like admation to help manage these challenges.

How Admation Helps You Work Better
It makes project briefing easier. Admation's online briefing template allows any nominated user to log in and create a brief and its customizable templates, with mandatory fields eliminate repetitive work, no matter what type of campaign the team works on. This, ultimately, ensures that the right information is captured upfront and streamlines the project management from the outset.


With Admation's deadlines and reminders feature, you can set up project review and approval deadlines which are visible to all stakeholders to ensure that they deliver their feedback and approvals on time. This allows teams to stay on track with approvals and tasks.


Admation's

approval pathways and checklists

feature makes managing the marketing approval process easy. With it, you can route approvals through a dedicated pathway where all stakeholders are prompted for feedback once a deliverable has been completed and you can set up checklists that they need to tick off before they send their feedback or approvals.


Knowing who gave which feedback is vital to an efficient approvals process. Admation's transparent feedback system makes stakeholder feedback and comments visible to all approved users which means that conflicting changes can be picked up before anything gets sent to the creative team.


Admation's revision management feature lets you save large files within its system. This means that, instead of using file sharing platforms, reviewers only need to log in to the Admation platform to review any artwork.


In the office, team members often receive handwritten markups that were scanned and emailed. This can get complicated if there are a few reviewers that all have to give feedback. Admation's online proofing tools allow reviewers to mark up any file type with visible markings and comments so feedback is clear and concise.


Admation's department dashboard lets you see exactly who's working on what. This also lets each team member log in and see what work is allocated to them, so they can plan their day and week more effectively.


Admation has task and resource allocation tools that lets you to allocate tasks and resources in a few easy steps. Once a task is allocated, the team member receives an automatic prompt and the task gets added to their workload. This makes planning easier, and makes the project management process a lot more efficient.


Admation has a built-in digital asset management feature that lets you or other users log in and share digital assets. You can also set permission restrictions on assets and have access to a download history to see which team members are using which assets. This all contributes to make asset management easier.



It's vital to have visibility over all project deliverables during the project management process. Admation's built-in reporting tools gives you a customized report that shows you exactly how many projects you have per department and the number of deliverables. This report provides unprecedented visibility for management, but also improves staff morale by demonstrating how much work they're completing in isolation.
Key Features
Some of the key features of the Admation marketing project management software includes the following:
Some of the key features of the Admation marketing project management software includes the following:
Online Briefs. The online project brief feature enables marketers to select a custom digitized brief template to capture all the right details for a creative project.

Assign & Reassign Tasks. Re-allocate tasks in a few simple steps by using the Admation Resource Manager.

Online Proofing. Admation's range of online proofing tools lets marketers review work clearly, efficiently, and on time.

Managing Brand Assets. Store and share all your marketing assets conveniently and securely with Admation's Ad Storage and Asset Library Digital Asset Management modules.

Marketing Calendar. With the marketing calendar, you can view projects under a weekly, monthly, two monthly or three monthly calendar.

Approval Checklists. Admation's Approval Checklist feature enables you to set up customized to-do lists that stakeholders need to sight and check off before approving work.

Re-run Projects. Marketers can re-run a project and associated deliverables with a few simple clicks, making it easier than ever to refresh a campaign that's run annually or to adapt campaigns for new markets.

Collate Feedback. Collate feedback in one place and make it easy for marketers to review stakeholder feedback.

Share Assets. The cart is a secure gateway to share assets and transfer files to others outside of Admation.

Reviewing Videos. Admation's video snapshot tool makes reviewing videos easier. It lets you take screen captures of your videos and then provide clear annotations using a range of mark up tools.

Finalizing Deliverables. Ensure that the right files are available to the right people at the right time, by ensuring that they are adequately stored post-approval with Admation's finalize a deliverable feature.

Full Screen Approval. With this Admation feature, you can reduce the number of clicks to get your work approved, by taking advantage of batch comments and approvals for multiple files.

Act on Behalf. Admation's act on behalf tool is an ingenious feature that provides team member with the ability and flexibility to approve work on behalf of other stakeholders.

Approval Templates. Admation's approval templates enable marketers to set customized approval pathways for their marketing projects.

Feedback Report. All feedback received on artwork can be collated into a quick feedback report, clearly showing stakeholder feedback in one easy-to-read PDF file.
Who Uses Admation And Why
Now that you've seen what challenges Admation solves, and how it does it, the question is who uses it?  

Some of the use cases include:
Marketing teams. Today's marketing environment is complex and ever-changing. That's why marketing teams need to use one project management tool to help them manage a growing number of campaigns.



Agencies. Admation makes account service and client management easy and agencies can get instant status updates and work-in-progress reports at the click of a button.


Legal teams. Legal teams play a vital role in the approval process as they're responsible to make sure that creative output complies with brand and legal requirements. Admation makes managing compliance easier by making sure the legal team is part of the process.


Retail teams. With retail companies managing multiple brands, it's easy for the team's processes to be siloed. Admation allows these teams to bring all their brand practices under one umbrella ensuring consistency in the process.



Operations teams. With so many marketing projects on the go, it's easy to lose sight of priorities and progress. Admation's range of project management tools provide new insights that let teams see the bigger picture and everything in between.

 
By using Admation these teams can take the hassle out of managing creative projects. With its suite of tools, it offers unprecedented ease of planning, managing, and tracking projects from one central platform. Not only does this make life easier for teams, but ultimately improves the final product.
{{cta('3c7db2a0-d59d-4bcc-9f59-96fd37ebf1ee','justifycenter')}}