Digital Asset Management Made Simple
Simple. Powerful. Feature Rich. Simple's Asset Manager strikes the right balance between control and flexibility. Store, tag, edit, review, approve and share assets with ease. With a single source of truth, stay on-brand, meet the highest standards of compliance and distribute brand assets reliably and securely.
Contact Sales
Organise & Manage
Securely store all brand and digital assets in one place. Find what you need quickly with powerful search capability, AI assisted tagging and custom metadata.
Collaborate & Approve
Work together seamlessly with built-in online proofing and approval workflows. Increase efficiency by streamlining processes and involving the right stakeholder at the right time.
Control & Distribute
Safeguard your brands reputation. Control user permissions and asset expiry dates to manage access and usage. Share assets with internal and external teams securely with ease.
Centralised Storage: A Single Source of Truth
Store, organise and tag assets in one simple, customised and intuitive library.
Have confidence your teams only access current approved assets.
Powerful AI-assisted tagging gives more accurate search results.
Easily search for text in images with Optical Character Recognition (OCR).
Set expiry dates and watermarks on brand assets to ensure licence compliance.
Book a Demo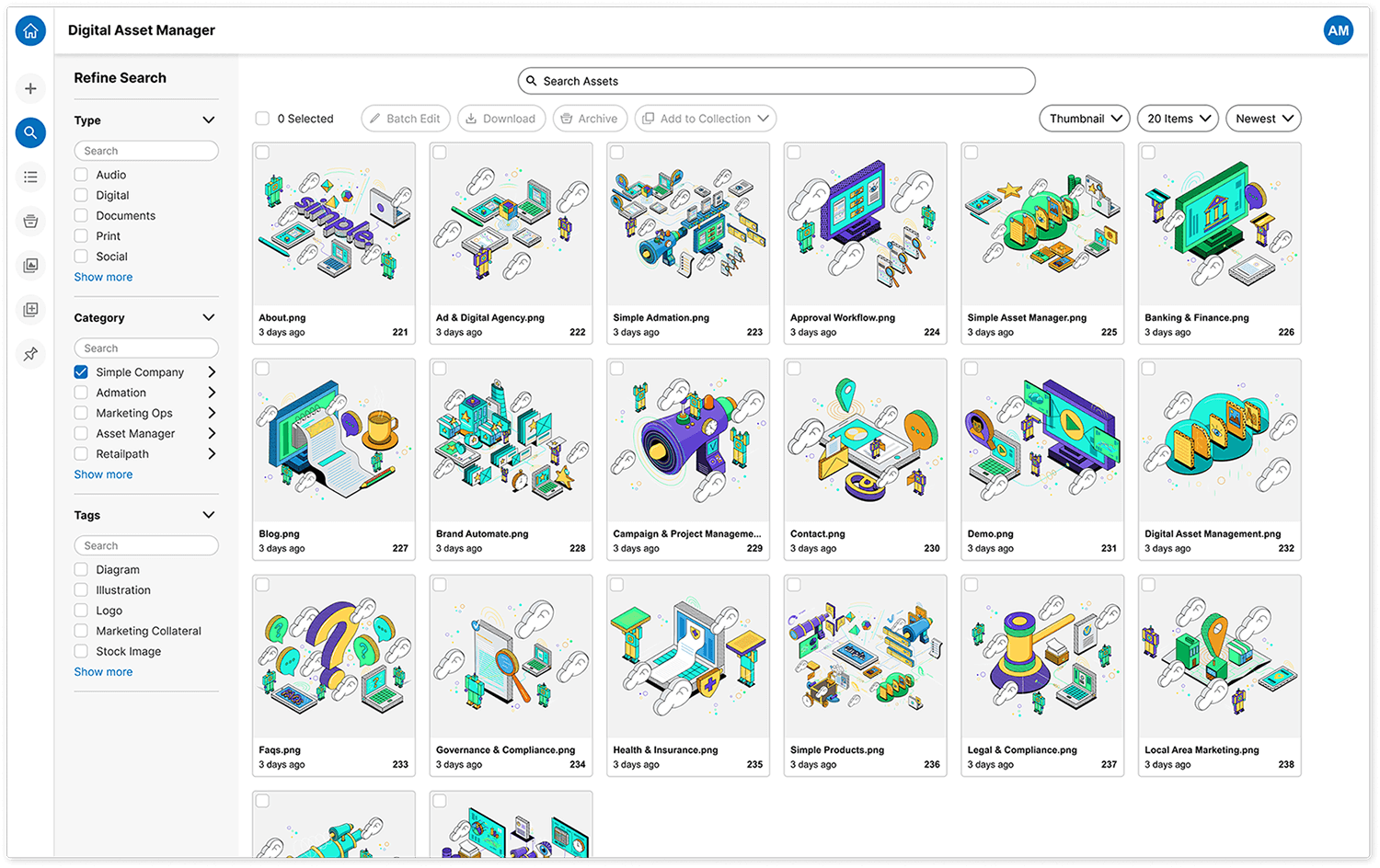 Control: Minimise Risk and Manage Compliance
Securely share content directly from the DAM – both internally and externally.
Define user permissions to ensure assets are accessed by the right users at the right time.
Gain insights into asset history and usage with auto-generated audit logs.
Set expiry dates and watermarks on brand assets to ensure licence compliance.
Guarantee compliance with Approval Checklists – know specific requirements have been signed off before an asset can be approved and distributed.
Book a Demo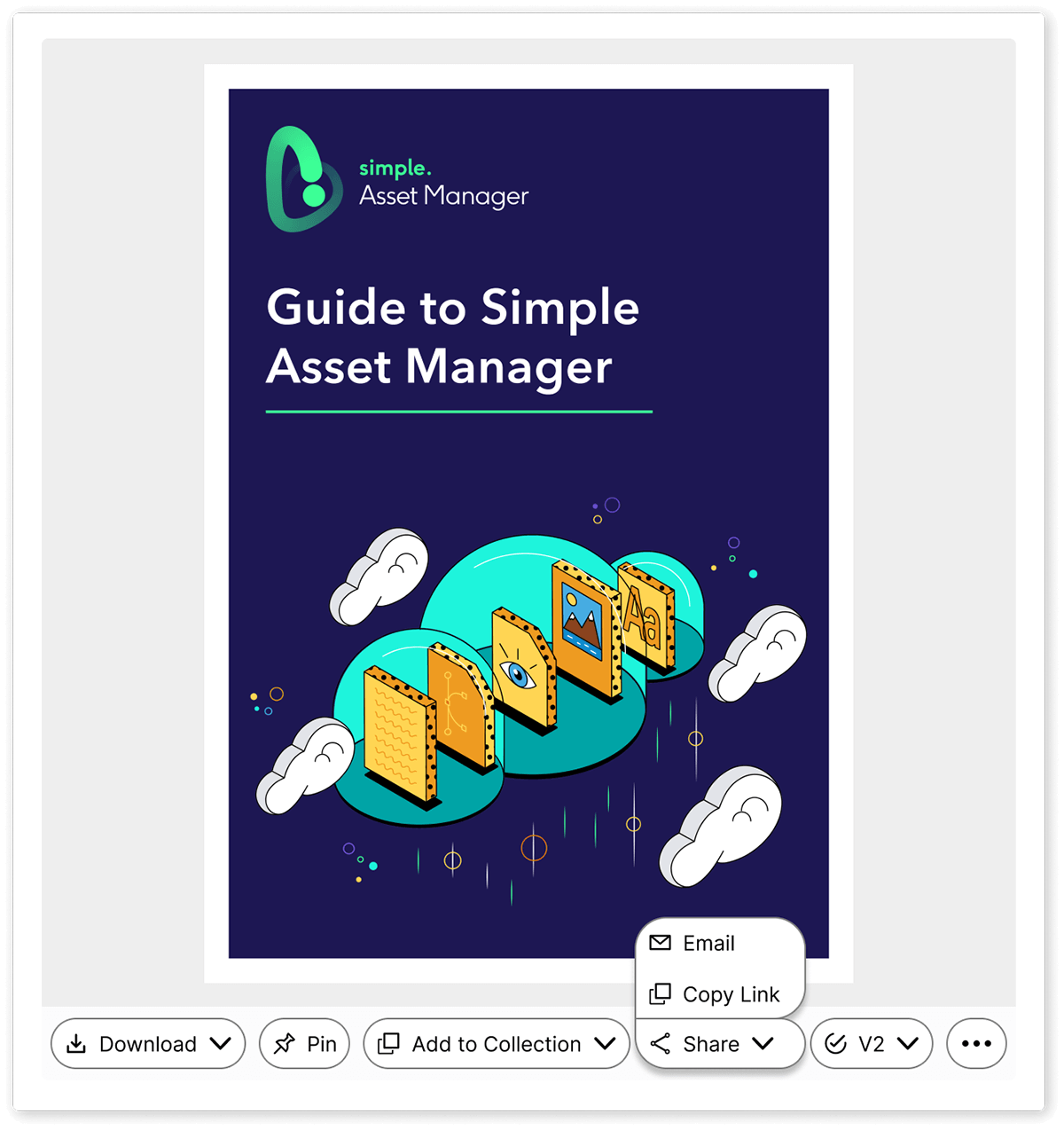 Consistency: Protect Brand Reputation
Define and enable an approval process to ensure assets adhere to brand guidelines and standards.
Manage the review and approval of assets with multi-tier approval workflows.
Track and manage versions to ensure only latest and approved assets are distributed.
Control access to brand assets to prevent unauthorised use and ensure consistency in usage.
Book a Demo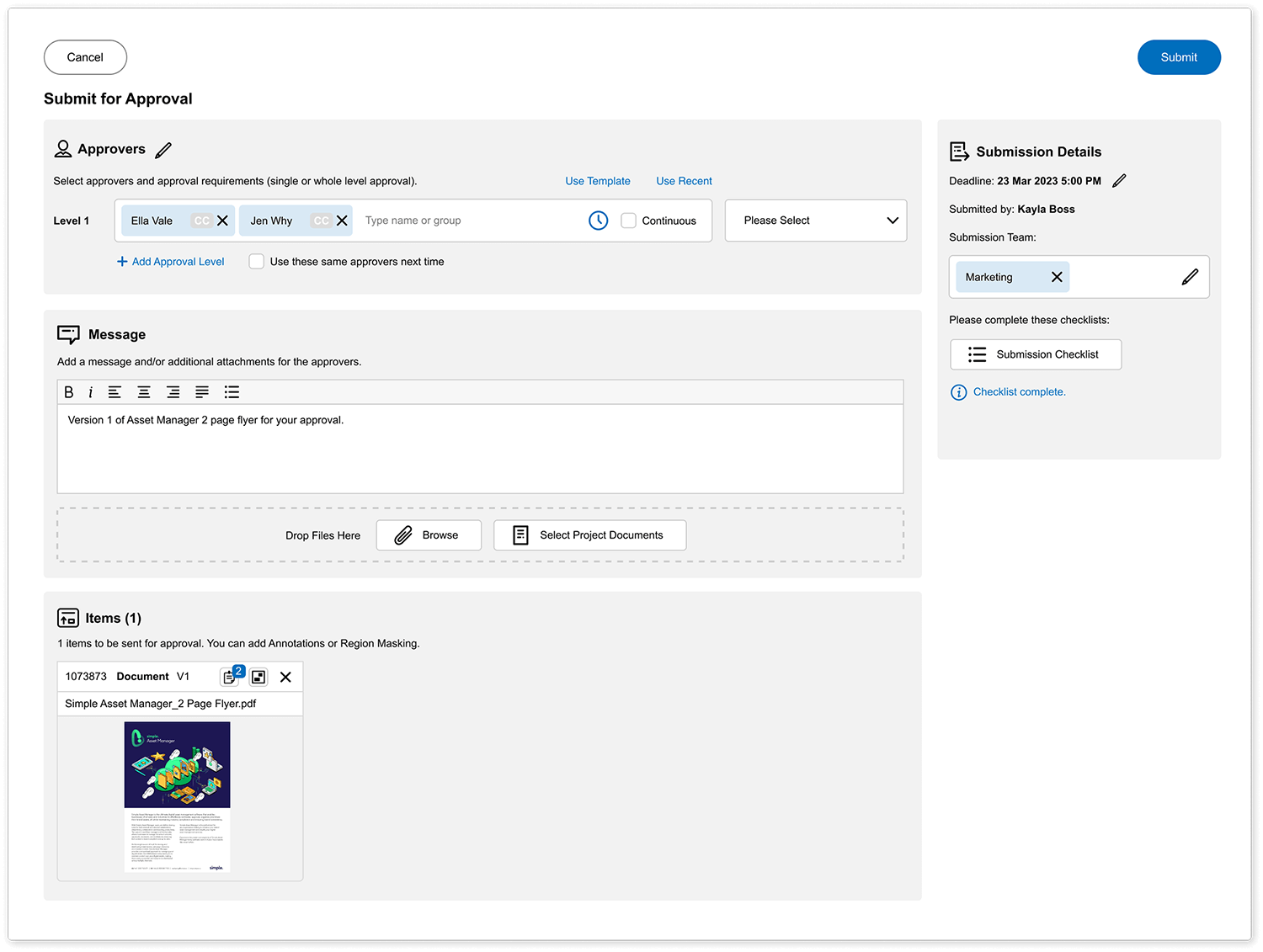 Efficiency: Boost Productivity and ROI
Convert, resize and download assets in channel specific format with automatic image transcoding.
Bulk upload assets and bulk set custom meta data and keywords to save time and ensure consistency.
Easily share a group of digital assets to collaborate with internal or external stakeholders via the Collections feature.
Streamline the review and approval process with online proofing and mark up capability. Reduce effort and turnaround time.
Book a Demo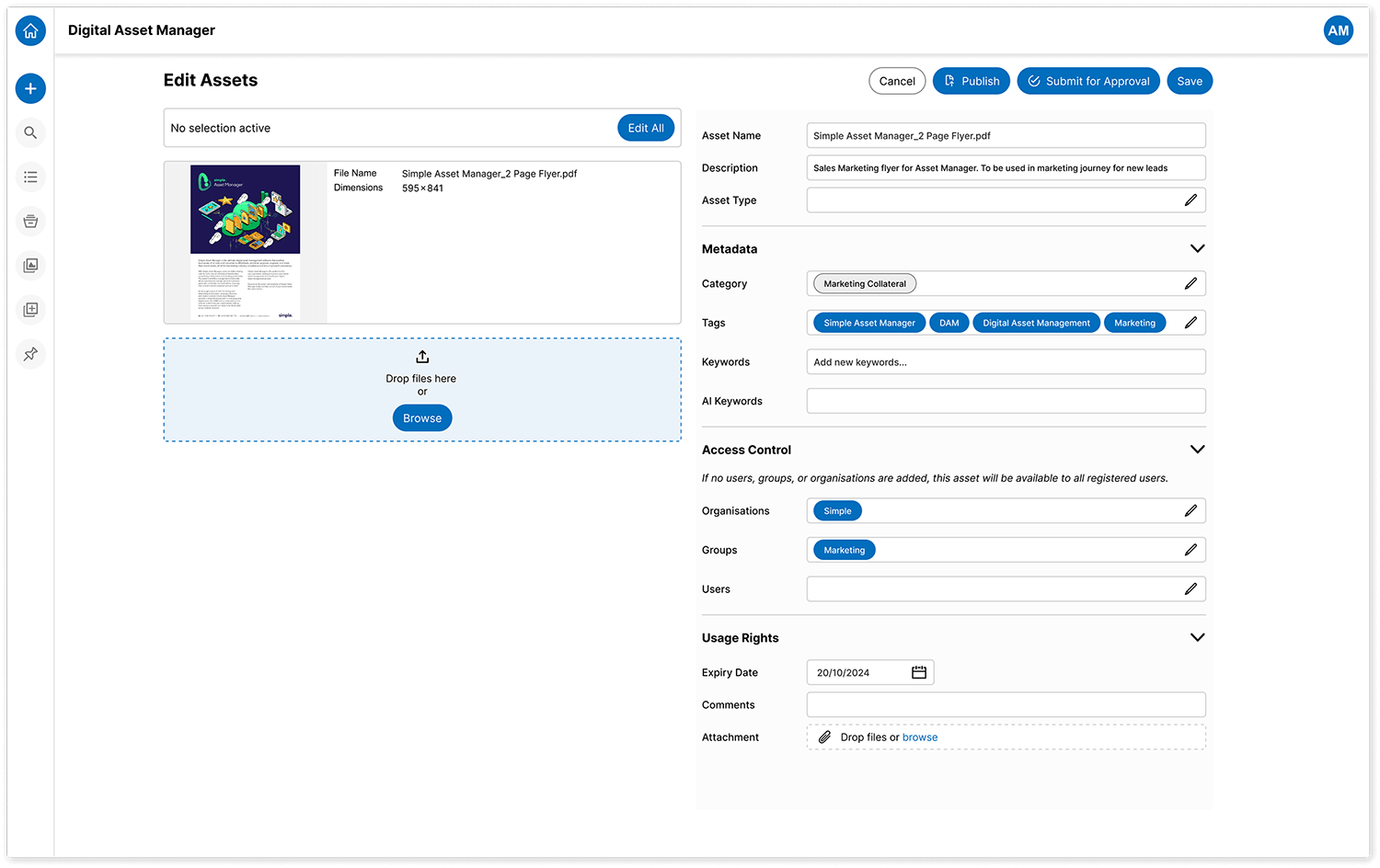 Asset Manager – Features
AI Search
Easily search and find brand assets including images, video, document by tags and meta-data.
Approvals
Intuitive approval workflow tools enable assets to be reviewed and approved within Asset Manager.
Central Asset Storage
A single source of truth to store and organise all brand asset including images, logos, video, documents and files of all file types.
Distribution
Securely share assets directly with both internally and externally stakeholders.
File Transcoding
Built-in image transcoding allows you to automatically convert images to any size and format you require for any purpose.
Permissions
Control access and usage permissions to ensure only the right people access approved assets relevant to them.
Tagging + Meta Data
Intuitive tagging powered by AI tagging and machine learning to automatically tag assets with relevant key words.
Version Control
Manage asset versions within the tools to ensure only current versions can be accessed and distributed.
Usage Rights
Manage assets usage rights and expiry to maintain control and avoid copyright issues.
Frequently asked questions
What is Simple Asset Manager?
Why is Digital Asset Management important?
What common challenges Simple's Asset Manager solves?
What are the main benefits of Digital Asset Management?