De-Risk your Marketing Risk and Compliance Process with Simple
By Jodie Byass
What is the biggest problem most marketers face when it comes to meeting marketing risk and compliance requirements? The complexity of the regulations? The length of time it takes legal to get back to you? Failure of the agency to insert the relevant disclaimer?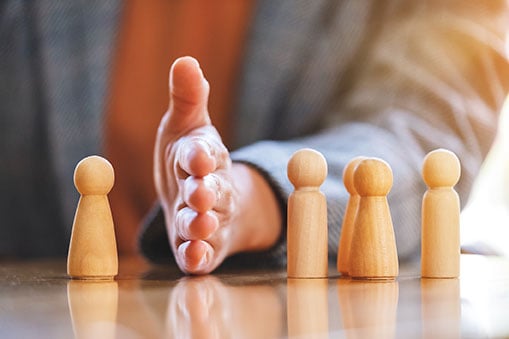 In fact, an inconsistent marketing risk and compliance workflow or process that results in out-of-date documents being referenced is one of the most common problems enterprise marketing teams face. Workflow is where many marketing teams fall down on compliance. But imagine if there was a way to automate your marketing risk and compliance process?
At Simple, we have a lot of experience at solving this problem. Most marketers are keen to comply with the relevant advertising rules and standards. That means garden-variety human error is the biggest threat: adding the wrong disclaimer; or worse — identifying the correct disclaimer, but picking up an out-of-date version; and failing to establish and follow consistent marketing compliance procedures.
So here's how you can automate your marketing risk and compliance workflow in one place, from briefing to audit, and everything in between.
Documented marketing risk and compliance process
For audit purposes, and for the benefit of the corporate regulator, it's important to show evidence of your company's intention to comply with the rules by having a documented marketing risk and compliance process, including keeping records of every step of the process. In Simple, you can write your marketing brief, receive the reverse brief from the agency, receive and mark up creative work, store it, apply the correct legal advice, and build in the relevant review, approval and legal actions, thereby ticking every marketing compliance box.
Reusable project templates with compliance built-in
Simple's Marketing Operations Cloud platform allows you to establish your marketing risk and compliance process via re-usable project and job templates that build in steps such as including disclosures, referring campaigns to the correct approvers and allowing time for legal and risk to review the work before final sign-off.
The brief
You can brief your agency in Simple via our marketing brief templates, and receive the reverse brief from the agency. Once you've signed off on the briefs, Simple stores them for your records. And once approved, they're non-editable in Simple.
Approvals
If your marketing team is managing the review and approvals process of your regular marketing activity via email, you are likely to be wasting valuable time each and every day.
Often, this starts with tracking down the correct approver. If there's been a change of staff at the top level of the marketing team, you may not know who the correct approver is, and it can take some time to track them down.
In Simple, you can automate your approval process to ensure your campaign goes directly to the right person every time — and does not progress until you have sign-off.
One source of truth
You can also capture and keep updated and accessible the information the whole team needs to be compliant — such as your up-to-date stakeholder approvals matrix. That means everyone will have the right information about approvers across the organisation in one centralised location.
Similarly, you can capture your regulatory guidebook, and ensure there is one central, updated version — meaning once legal has updated marketing on changes to the rules, no one need be in any doubt about what has changed, removing the all-too-common problem of team members mistakenly referencing an out-of-date version.
Automated disclosures
If you have a complex range of products, you can create a checklist in Simple that will identify and serve up the correct, most up-to-date disclaimer based on your product and type of campaign — customised according to whatever your brand's requirements are. This ensures the fine print on your campaigns is always correct.
Local area marketing brand automation
Similarly, if you make different offers in different geographic locations, or you require numerous versions to be localised, our brand automation and local area marketing software can help you create numerous versions, customised with the right offer, contact details and creative. That will help keep your brand on the right side of the consumer watchdog.
Simple's digital asset manager stores all your work for marketing risk and compliance purposes.
Version control and audit trail
Requesting, searching for and applying the most recent amendment instructions can also be problematic. Your team is probably also spending time following up, searching for updated assets, and re-sending approval requests.
And you can bet that some of the time, the wrong version will go out. It's also almost impossible to track without a Marketing Operations Cloud platform that captures markup instructions, comments, links and files, and retains them. In Simple, every iteration of your work is also captured, making it easy for your CMO and the auditors to follow the end-to-end workflow and campaign progression.
Storage
If your marketing risk and compliance procedures are stuck on paper, you'll have to find somewhere to file and store hard copies of your campaigns. Simple removes that problem with our digital asset manager, or DAM, which automatically stores all your files in one central location, making it easy for you to pick up and re-use the correct, approved version.
Automated marketing risk and legal review
Only when your marketing materials have gone through the templated marketing compliance workflow — including feedback and sign-off from risk and legal – will your team be able to complete final sign-off and send the work to be distributed, completing the compliance loop and keeping your brand on the right from the regulators.
Audits made easy
And if the auditors come knocking, you won't have the nightmare of crawling through a recently departed colleague's emails looking for amendment instructions and sign-offs, potentially saving your team days of work and valuable time and money in lost productivity.
So that's how Simple can help you automate your marketing risk and compliance workflow.
To see Simple's Marketing Operations Cloud platform in action, Book a Demo.