Admation releases enhanced Approval features and Project Timesheets
By Jodie Byass
Admation releases enhanced Approval features and new Project Resource Timesheets
October is an exciting month as we release a range of new features and improvements to admation marketing approval workflow and resource management features. We also release the first updates to the user interface with a goal to give admation a more fresh modern look.  
The following enhancements further improve the marketing review and approval process.
Allow deliverables to be directly submitted for feedback
We understand how important it is to get the right stakeholders to provide feedback at the right time, so have streamlined this process further.  Users can now submit the deliverables directly to internal and external stakeholders requesting feedback without sending the content for approvals.  This new feature promotes collaboration among your team. 
Approvals > All Revisions Comparable
This update enables you to view all the artwork versions that have been produced for a project even if you were not a recipient of an earlier version.  This ensure you have visibility across the entire process, including feedback received from other stakeholders or departments such as the legal team.  
Alerting approvers on urgent tasks
Approvers will be alerted on more urgent requests via email as on the approval notification screen. These messages will link directly to the approval list, with approvals automatically sorted by priority.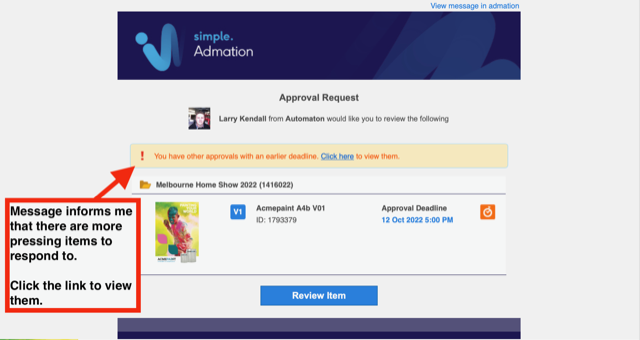 Annual Governance > Add options for earlier reminders
Annual Governance continues to be a priority for many marketers in regulated industries. Admation Annual Governance capabilities aim to automate and streamline tasks that assist in managing these requirements.  Our latest update enables Admation to send an email up to 180 days prior to an asset usage expiry.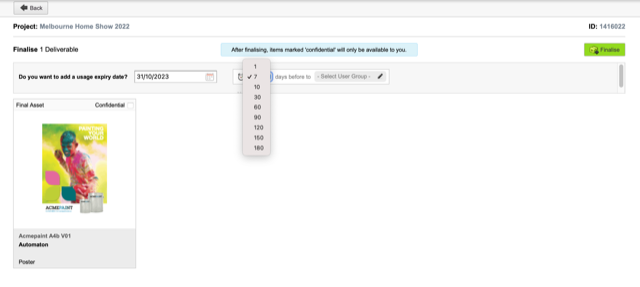 Project/Deliverable Details > Add support for links in the Overview field
A key benefit of managing marketing projects with admation is having one place to collaborate, store and manage all project documentation and communications.  You have always been able to attach supporting documents to a project but this latest update enables you to add links to videos, website or google docs to a project ensuring that your projects contain ALL relevant information. 

Resource Management
Admation's Resource Management is an advance module used by clients with a need to plan and manage project resources and tasks with greater accuracy and agility. If you need help managing your project resources and capacity, Admation Resource Management can provide you with the tools to help!  
Timesheets
This month we have released new Timesheets feature to Admation's Resource Management capabilities. The Calendar now displays current or previous weeks along with all associated tasks for an individual or a department. Users can log time against a task on a particular day with the total amount of time logged for the day, including any BAU allowance, also displayed. Timesheets are then able to be submitted to a manager for approval.
Watch the video below for an over view of this update:
For more details on this product release please refer to our Release Notes or reach out to our team if you wish to learn more about how Admation can help manage your marketing projects, resources and approvals.