Admation Product Release: Improving User Experience
By Jodie Byass
We are thrilled to announce the latest update to Admation, which focuses on improving the User Interface (UI) of many areas, making your work shine like never before!
Our team has been hard at work refining and consolidating buttons, updating colors and icons, and making changes to the Full Screen Approval (FSA) view, as well as the screens around it. We understand how important it is for you to have an interface that doesn't get in the way of your workflow, and that's why we've made these updates to bring you the best possible experience.
Let's dive into some of the exciting changes we've made:
Full Screen Approval View UI Update
One of the most notable updates is the Full Screen Approval (FSA) view. We've removed some of the colors and refined and consolidated buttons, so the interface won't get in your way and your work can really shine. We've even changed the background color from black to charcoal gray to provide better contrast when reviewing darker images. We've also moved the Decision button to the right-hand side of the screen, making it easier to locate and submit your approval decision. With these improvements, you can now complete approvals with greater ease and efficiency.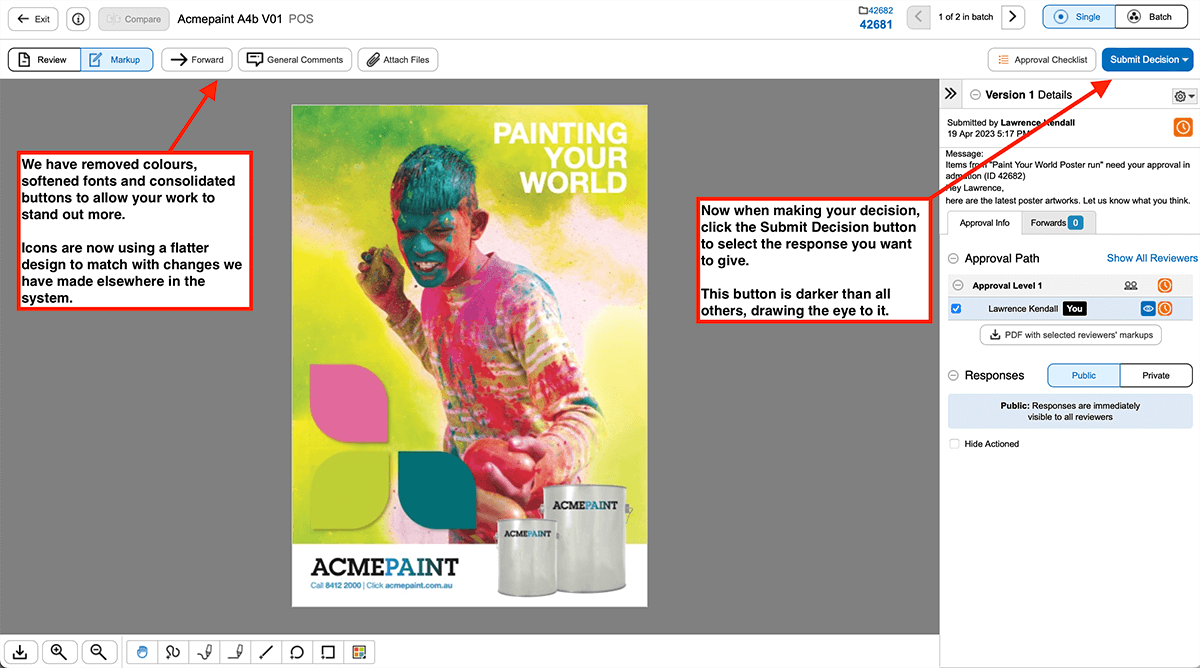 Feedback Mode and Project Details UI Update
 We've updated the user interface for the Feedback Mode screen, ensuring consistency across our platform. This means you can focus on reviewing and extracting feedback with minimal distractions from the interface. We've also made some smaller changes to the Project Details screens, updating the colours and icons to give it a fresh look and making your experience seamless and cohesive.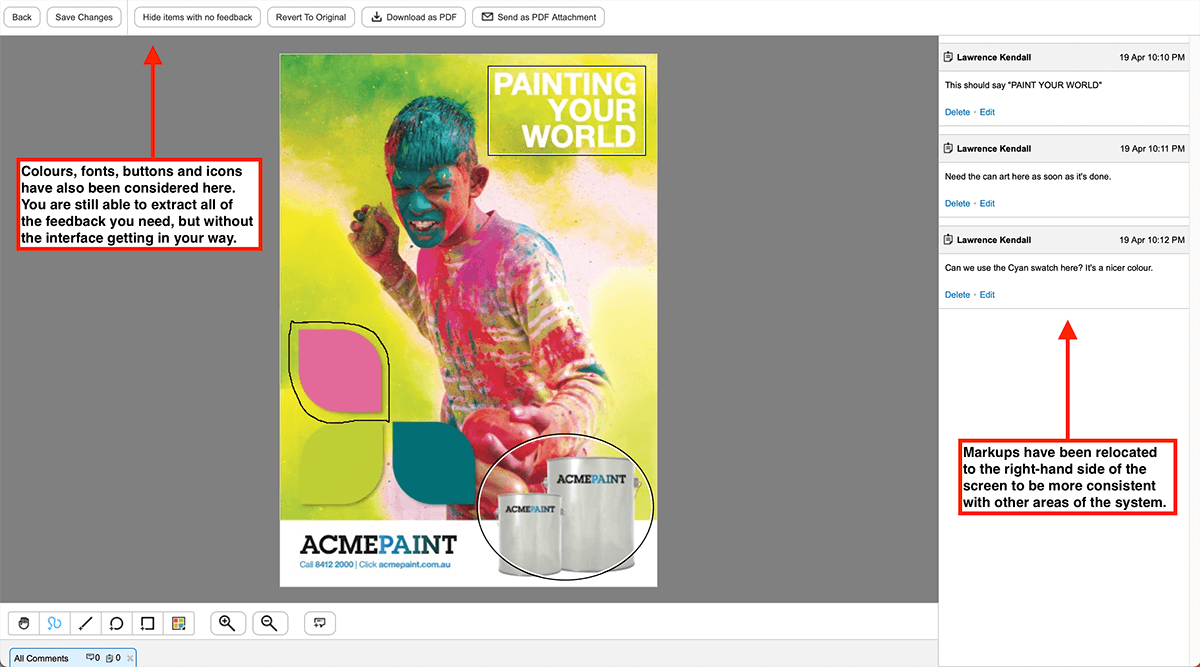 Add Deliverables 
We've also made improvements to the Add Deliverables screen in a project. We've increased the usage area of the page and refined the colors to make it feel lighter. We've also added the ability to collapse newly added deliverables so that only essential fields are visible, allowing you to see more deliverables on the screen at once. This means you can now manage deliverables with greater ease and efficiency.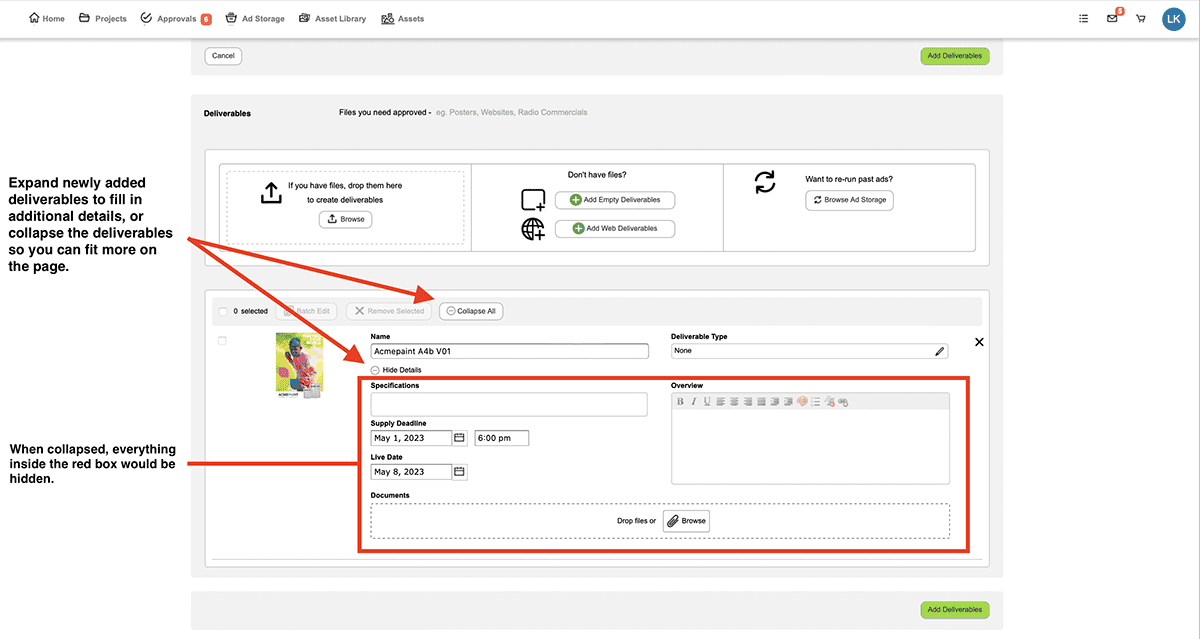 Approval Details - Forward Approvals
We understand that compliance is important, which is why we've introduced new features to assist with this. For instance, we now allow organisations to configure the system to allow all users to see who an approval request was forwarded to. This is particularly useful in highly regulated industries where knowing who has seen and approved an item is critical to compliance.

Approval Templates
This release sees the introduction of a new feature that notifies a specific set of users when an approval template is modified for a specific approval request. This is especially important for organisations that need to ensure that users are submitting approval requests to the correct people. If a user selects an approval template and subsequently removes an approver, a message can be sent to a predefined set of people (usually compliance officers), so they can assess or request information about this change.
Page Selection Widget
A new Page Selection widget has been added to the interface, making it easier to flip directly to a specific page when submitting an item for approval. This is particularly useful for larger multi-page documents, saving you time and effort when annotating and submitting items for approval.
Approval Lists - Tags
Lastly, we've added the ability to see and select tags from related organisations when receiving approval requests. For instance, if your organisation sponsors a sports team who submits approval requests for the use of your logos, you can now filter the Approvals List by the organisation name and the associated tags, making it easier to search for and keep track of approval requests that your business hasn't created, but were shared with you for approval nonetheless.
Please refer to the Release Notes for more information on these enhancements as well as other fixes that have been uploaded in this product release. 
We hope these updates will enhance your experience with Admation, making it easier and more efficient for you to complete approvals, manage deliverables, and stay compliant. If you have any questions or feedback about these updates, please don't hesitate to reach out to your Customer Success Manager.